How Hearing works?
What is a Hearing aid?
A hearing aid is an electroacoustic device that is used by the wearer to amplify sounds in order to improve the hearing perception and thereby aim to make speech more comprehensible. The Audiologist measures the degree of impairment through audiometry and programs the hearing aid to suit the wearers hearing impairment.
Hearing aids range from extremely small sizes that fit completely in the ear canal, to models that are placed behind a person's ear that transmits the corrected sound into the ear canal via tubing and an earmold.
Unlike prescription glasses, hearing aids will not correct the wearers hearing impairment. Therefore it is crucial to protect your hearing from deteriorating further by using a suitable hearing aid. Do not expect to 20/20 hearing, however hearing aids will assist the wearer in many difficult hearing situations. Most new hearing aids are digital and may require follow up visits for technical adjustments by our audiologist.
Adjusting to hearing aids may take time and perseverance, but it is worth it. You may have a love or hate using your hearing aid at first as no one is enthusiastic about getting a hearing aid, but after a while, you will not want to be without it.
A hearing aid coupled with your willingness to us will allow you to tell others how to communicate with you. Practicing good speech techniques and improving communication strategies is a winning combination that will get you back to enjoying life as you once did.
How a hearing aid works?
Hearing aid features
Hearing aids range from analog, semi digital to completely digital. However the features of the hearing aids may vary as the technical specifications and brands vary. Digital hearing aids allow more precise sound corrections due to its programmability and provide many advanced features such as automatic directional microphones, noise attenuation, automatic volume control, and the suppression of high frequency noise. Most of our brands provide many features that help in sound clarification and accessibility through recommended accessories. The wearer can decide on what features they require in order to select the suitable hearing aid brand with the assistance of our audiologists.
Types of Hearing Aids
Behind-the-ear (BTE) hearing aid
Rests behind the ear and is connected by a transparent plastic tube that connects to the earpiece or earmold. BTE's are mostly used for young children as the hearing aids can be used to fit a variety of ear molds, relatively durable and is easy to maintain cosmetically. BTE's are also suitable for many hearing impaired user as the amplification gain is higher and covers a larger frequency range.
Mini BTE (Or "on-the-ear") hearing aids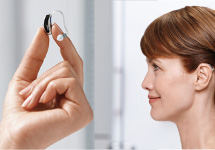 Also rests behind or "on-the-ear" but is comparatively very small to the BTE range. The hearing aid has a transparent plastic tube, which is very thin and generally connects the hearing aid to a comfortable earpiece or an earmold. Mini BTE's reduce the occlusion in the ear canal hence improve sound clarity by reducing sound feedback.Mini BTE's provide better comfort, cosmetic appearance and better sound clarity .
In-the-ear (ITE) / In-the-Canal (ITC) hearing aids
Rests on the outer ear part or the immediate entry to the ear canal. The ITE / ITC are generally cosmetically visible on the outer ear, however the different colors that are available allow the user to blend the hearing aid to the wearers skin tone. The ITC's are slightly smaller than ITE's and is advantageous cosmetically for conscious hearing aid users. ITE / ITC's are easier to handle than completely-in-the-ear (CIC) models.
Completely-in-the-canal (CIC) hearing aids
Rests in the inner ear canal and is cosmetically almost invisible to the outside world. However the CIC models can be difficult to handle due to their smaller sizes and can be relatively expensive.
Invisible-in-the-canal (IIC) hearing aids
Rests deep in the ear canal, and is completely invisible from the outside. The smallest and most advanced technology allows it to be cosmetically invisible and provide ecstatic performance in delivering clear sound. The very small size can be difficult during handling and can be more expensive than CIC's.
Why you should not hesitate to use a hearing aid?
Using a hearing aid is much more than what "meets-the-ear". The hearing aid not only allows the wearer to comprehend sound better but also helps the wearer to effectively communicate with people in social situations. The ability to respond to people's questions determines a person's personality in social situations. Also, continuous inability to communicate to people can create psychological implications and fatigue. Wearing a hearing aid will reduce the rate of hearing loss and thereby help preserve your hearing. Unlike prescription glasses, hearing aids cannot help the wearer regain the lost hearing hence preventing further hearing loss is imperative.
Why your hearing aid should be from us?
Product Variety
At Medcon, we handle 3 International Hearing Aid Brands, Phonak (Switzerland), Bernafon (Switzerland) and Hansaton (Germany). All three companies are world's leading manufacturers in terms of R&D and quality. The three companies provide a large range of hearing aids that will cater to almost any hearing impairment condition. Let it be channel technology, channel-free technology, wireless telephonic communication, automatic sound regulation etc. Medcon can provide products that meet your needs and expectations.
International Warranty
Medcon's provides one to two years international warranty depending on the product. Whether your hearing aid is from us or from any other country, Medcon will be able to provide its services in terms of re-programming or repair services as long the products are from our affiliated agencies.
Service Standards
Medcon provides a variety of services to its clientele including fully-fledged audiological and medical services with comprehensive warranties and repair labs at the head office. Medcon has functioned successfully for over 10 years in the health care business because of its strong loyal customer base, fostered through our excellent service standards.
Availability of compatible accessories
Medcon has compatible accessories for all hearing aid products. The accessories include wireless communication devices, phone adapters, TV adapters, remote controllers etc. View our hearing accessories for more details.
Accessibility
Medcon has branches in Nugegoda (Colombo), Kandy (Central Province), Matara (Southern Province) and Jaffna (Northern Province) and many other distributors ranging from opticians to medical clinics around the island. Contact us to find out on how to reach our products and services effortlessly.
Satisfied customer base
Our mission at Medcon, is to provide our clients the best products and services. Since 2005 we have tremendously improved our services and currently reaching out to excellence in service standards. Medcon has sold over 8000 hearing aids and provides services to over 7,000 hearing aid users in Sri Lanka; hence we are a trusted brand in the market.