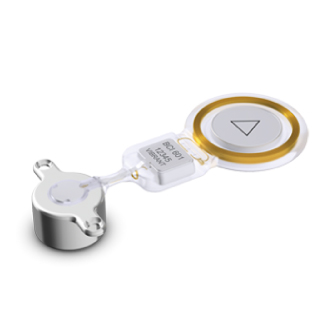 BCI 601 Bone Conduction Implant
BCI 601 Implant
The Bone Conduction Implant - breakthrough technology
MR Conditional up to 1.5 Tesla
Intact skin — no skin irritations
Optimal sound transmission via direct stimulation
Extremely low complication rate
The BONEBRIDGE is an innovative new bone conduction implant that transmits sound waves via the cranial bone directly to the inner ear, where they are perceived as natural sound. The implant is completely invisible under the intact skin. In contrast to other bone conduction systems, this minimises the risk of skin irritations, and the direct stimulation of the bone (direct-drive technology) achieves optimal sound transmission results.
SAMBA Audio Processor
The audio processor - design meets technology
SAMBA audio processor
Wireless connectivity*
Individual, award winning design
Intelligent, self-learning hearing system
High wearing comfort
The SAMBA is the latest generation of audio processor for the VIBRANT SOUNDBRIDGE and BONEBRIDGE. The SAMBA does what its name suggests: it's colourful, versatile and brings sound and joy to your life. With the interchangeable covers of the SAMBA audio processor it's your choice whether to hide the audio processor underneath your hair or make an expressive individual statement. For its innovative design, the SAMBA won the renowned Red Dot Design Award 2014. Along with the stunning design, the SAMBA impresses with sophisticated hearing technology.